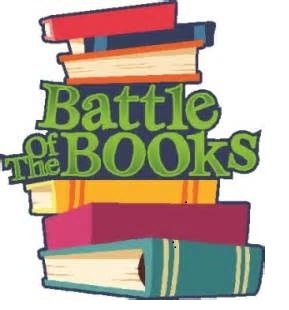 At Prairie School, participants are 4th and 5th grade students. Many of the elementary schools in the district participate in this program. Throughout the year, students will have the opportunity to attend meetings at Prairie where we will hear book talks, discuss books, watch videotapes, and participate in many activities related to literature.
We also blog about books with students from different schools throughout the district. The goal of the program is to encourage elementary age students to read quality books and to read as widely as possible in their leisure time. Students will be able try-out for a position on the Prairie Battle of the Books Team. The teams compete in the spring with other schools from our district by answering questions and knowing the authors from a selection of the "Battle" list.
Students may participate in the Battle of the Books program without obligation to try-out for the Battle of the Books team. Although I wish I could take everyone to the competition, I am only allowed 4 students and an alternate from each grade level. The criteria for choosing the team will be an assessment, attendance and group participation. Our groups meet on Wednesday during lunch in the LRC.
Happy Reading!

Jeni Rogers
View this year's Battle of the Books reading list below: (Battle PDF)